A topical news item from 'Focus For Health':
Reference : https://www.focusforhealth.org/category/news/
This strongly associates with the American political and pharmaceutical scene but it has international applicability. What is to be learned is the degree of corruption throughout the associated organizations, including the government itself, which signifies the risks of giving uncritical credibility to pharmaceutical products, information and claims of safety and efficacy.
Have Pharmaceutical Companies Corrupted Science and Government?
In the article below, (my bold emphases), Dr. Lewis highlights how the billion dollar pharmaceutical industry's influence extends into regulatory agencies, as well as to respected journals responsible for publishing scientific literature. Focus for Health supports positive efforts to ensure government transparency in the protection of public health.


The Oconee Enterprise, August 6, 2015:

Pharmaceutical Companies Have Corrupted Science and Government

Last week, big news media ignored Congressman Bill Posey imploring Congress to hold hearings after a leading government scientist admitted the CDC destroyed data linking MMR vaccine to autism in young black children.

Former CBS Evening News anchor Dan Rather recently commented that big media is controlled by big government working with big corporations for their mutual benefit. Pharmaceutical companies wield the most influence with Congress and the news media.
Unfortunately, the scientific literature has also been bought out. In 2011, Fiona Godlee, Editor-in-Chief of the British Medical Journal, testified before Parliament that the peer reviewed scientific literature has become the marketing arm of the pharmaceutical industry.

If Congress gets its way, things will only get worse. The U.S. House of Representatives recently passed the 21st Century Cures Act, which would create a corporation to accelerate the development of new drugs and vaccines. It provides over $9 billion for the NIH and the FDA to fast-track them to market.

This federally-created corporation would, no doubt, be run by highly paid executives passing through the revolving door between government and industry. Instead of relying on case-controlled clinical trials, the new approval process for drugs and vaccines will incorporate anecdotal evidence from patients, parents, advocacy organizations, research sponsors and unnamed "others." Blindly supporting the pharmaceutical industry appears to be one thing Republicans and Democrats alike have no problem agreeing upon.

Dr. Lewis' article posted in The Oconee Enterprise: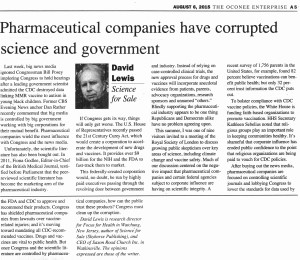 This summer, I was one of nine visitors invited to a meeting of the Royal Society of London to discuss growing public skepticism over key areas of science, including climate change and vaccine safety. Much of our discussion centered on the negative impact that pharmaceutical companies and certain federal agencies subject to corporate influence are having on scientific integrity. A recent survey of 1,756 parents in the United States, for example, found 82 percent believe vaccination can benefit public health; but only 32 percent trust information the CDC puts out.

To bolster compliance with CDC vaccine policies, the White House is funding faith-based organizations to promote vaccination. HHS Secretary Kathleen Sebelius noted that religious groups play an important role in keeping communities healthy. It's shameful that corporate influence has eroded public confidence to the point that religious organizations are being paid to vouch for CDC policies.

After buying out the news media, pharmaceutical companies are focused on controlling scientific journals and lobbying Congress to lower the standards for data used by the FDA and CDC to approve and recommend their products. Congress has shielded pharmaceutical companies from lawsuits over vaccine-related injuries; and its moving toward mandating all CDC-recommended vaccines. Drugs and vaccines are vital to public health. But once Congress and the scientific literature are controlled by pharmaceutical companies, how can the public trust these products? Congress must clean up the corruption.
The source article is linked here.
The author's credentials:
David Lewis, Ph.D.

Former U.S. EPA Research Microbiologist

David Lewis is an internationally recognized research microbiologist whose work on public health and environmental issues, as a senior-level Research Microbiologist in EPA's Office of Research & Development and member of the Graduate Faculty of the University of Georgia, has been reported in numerous news articles and documentaries from TIME magazine and Reader's Digest to National Geographic.